25
th
September 2010, Saturday
Hari ni kalau ikut itinerary, kami akan mengexplore dunia Bangkok! Yeah……awal pagi bangun, we had our breakfast in the hotel. Just a simple breakfast, yang penting croissant dia sedap, walaupun tidak sesedap croissant di Paris, ahaks. Hidangan adalah vegetarian..sukar mau dapat Halal food sini.
After breakfast, we make our move to Rachaprarop Station, to take the BTS to go to Saphan Taksin station. From Saphan Taksin kami akan menaiki ferry untuk pergi ke Rattanakosin area. Ada apa di sana??? We are going to visit the Grand Palace and Wat Pho. The pier to the destination would be the last pier. On the way, kami sempat melihat keindahan Wat Arun also known as Temple of Dawn. Memang menakjubkan.
our ferry
Sampai di pier, kami berjalan kaki untuk ke Wat Pho. Perjalanan penuh onak ranjau disebabkan kesesakan para penjual jalanan. Pelbagai jenis barangan dijual dan most of it is antique tapi not sure whether its really really antique atau pun tidak. Benda macam ni tidak menarik minat aku pun cos info yang aku google, sometimes benda yg dijual tu fake, and bila mau bawak balik ke Negara asal mungkin ada sedikit komplikasi, cos banyak lah prosedurnya kalau mau bawak balik barangan antik ni. Selain itu, patung patung budha pun banyak dijual, batu permata, duit lama, gigi palsu pun ada…ntah gigi siapa lah yang diorang jual ni…termasuk "wooden cock"!!!! Apa fungsi, I'm still not sure cos malas mau tanya dengan orang tempatan…diorang ni bukannya paham bahasa pun hahaha
Sepanjang perjalanan tu, banyak jugak orang orang tempatan yang approach kami, most of them is the tuk tuk driver, asking where we want to go. BEWARE…jangan simply termakan tipu helah diorang ni. Tips I got hasil googlelan aku, don't simply take tuk tuk to get to your destination as kadang kala diorang ni menipu dengan caj yang dikenakan, sometimes diorang even force us to go places that we don't want to go. So ignore saja la.
Setibanya di Wat Pho, ada banyak entrance but you have to ensure to use the right one. Sometimes, diorang akan cakap that we cannot enter the place for the time being due to prayers. Tolong ignore orang orang ini. Semua tu cuma helah diorang which I still don't know apa faedahnya diorang berkelakuan demikian. Mungkin diorang mau duit sogokkan??? Disebabkan perangai diorang begini lah yang membuat kami malas mau pergi attractions dalam itinerary kami. Mujur beeps main redah saja…dapat la kami masuk Wat Pho to see the reclining budha
Bersebelahan dengan Wat Pho is the Grand Palace. Sempatlah kami bergambar gambir di sekitar palace ni…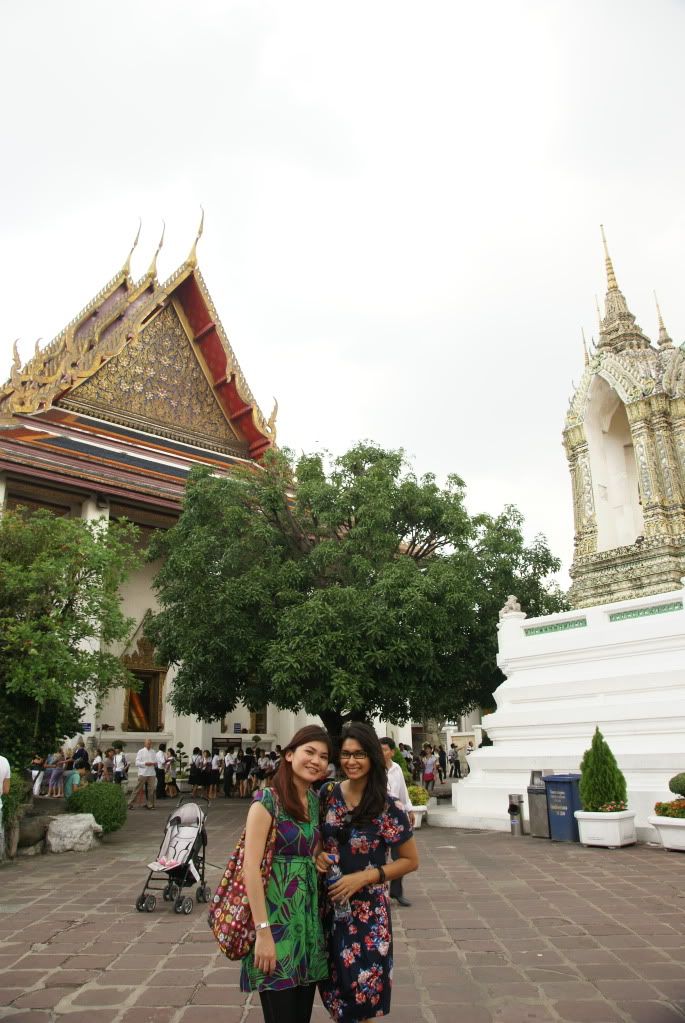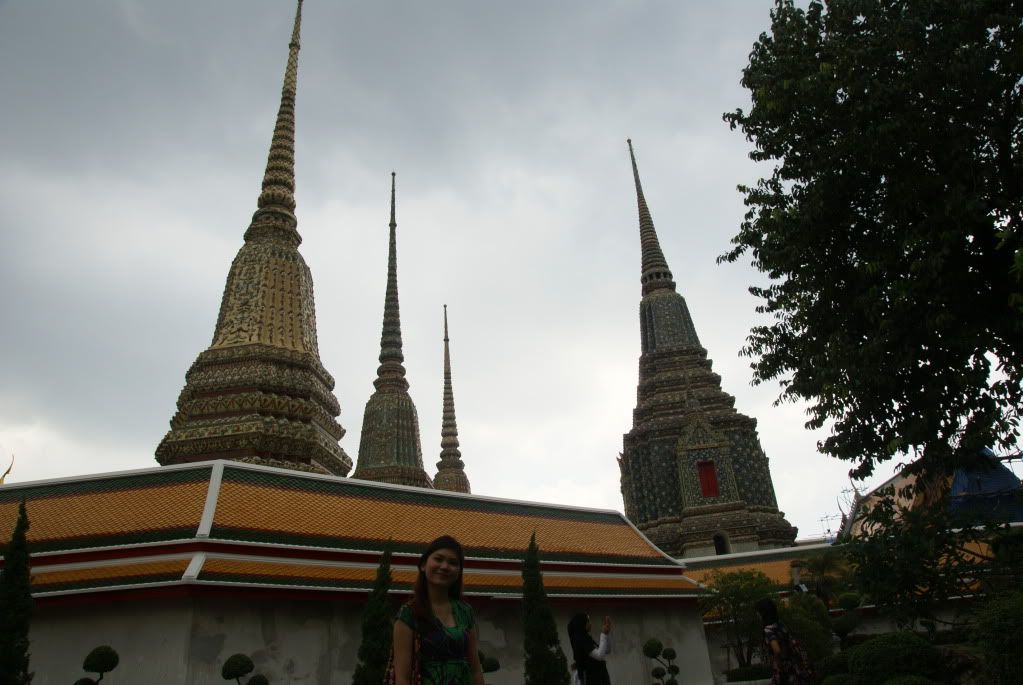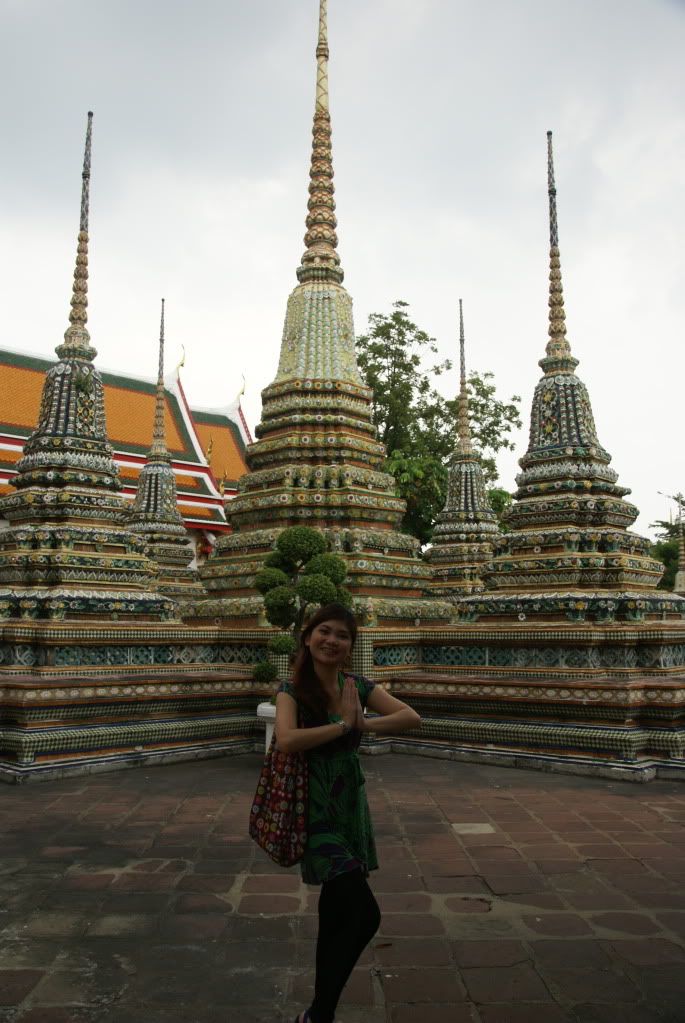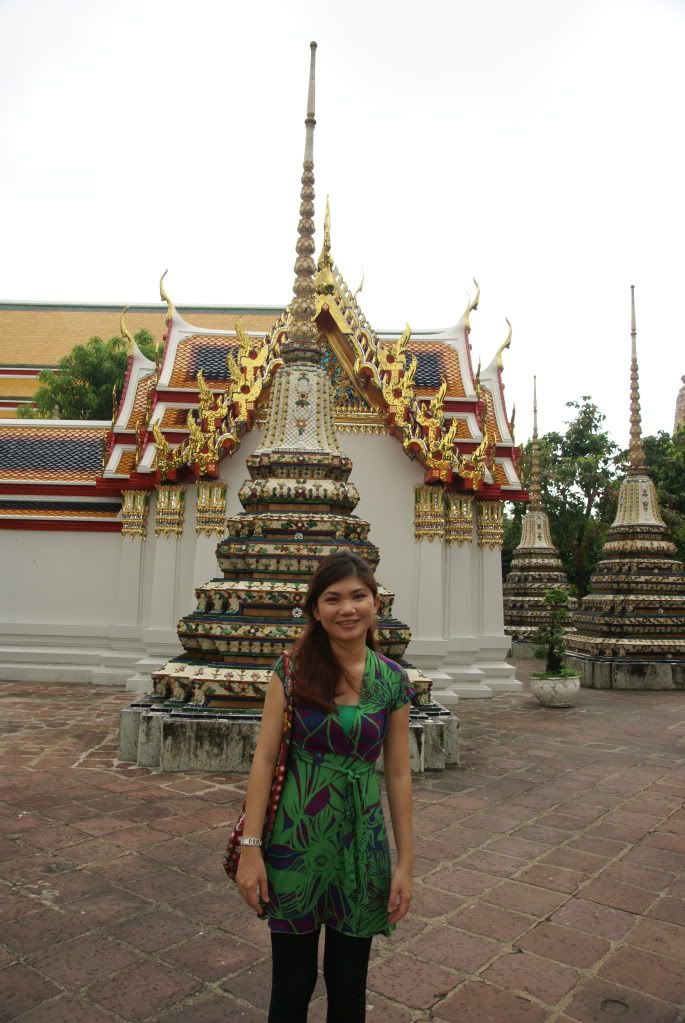 tengok tengok hari sudah hujan…..kami pun berteduh seketika di kedai sambil makan aiskrim. Kalau tengok keadaan langit, ntah bila hujan akan berhenti. Kami pun decided to make our move, balik to hotel and skip attractions yang lain. Sungguh pilu keadaan kami, basah kuyup disimbah hujan, dengan cik bibah yang selsema manja hahaha. Sampai pier, kami terpaksa tunggu until the ferry arrive. Niat dihati ingin bersantap di area hotel, cos ada restoran halal senang sikit melantak.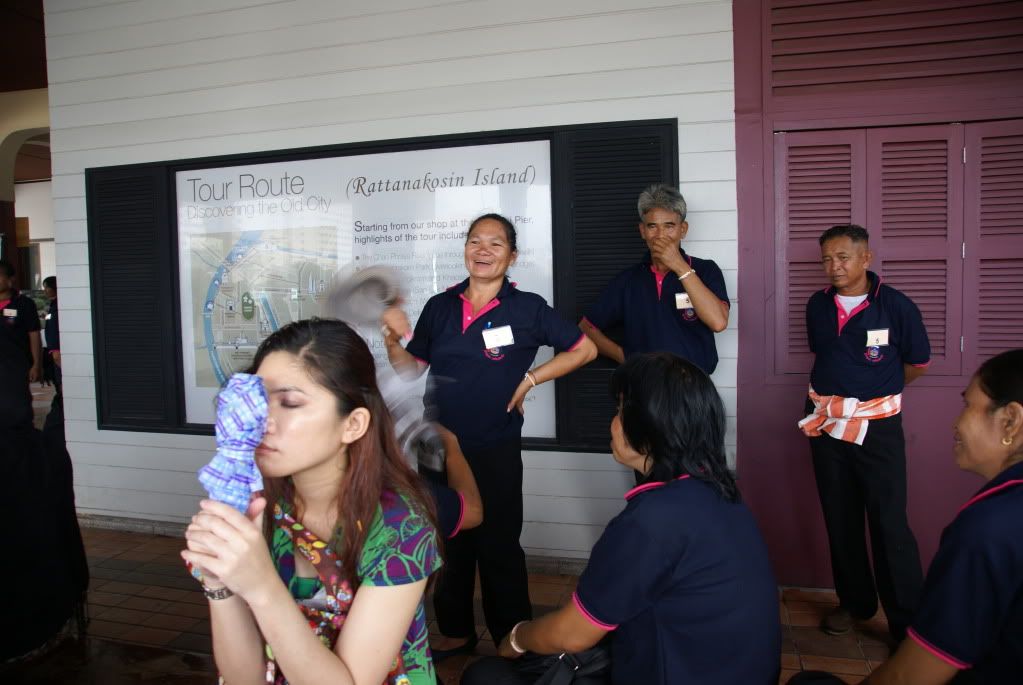 view during the ferry ride: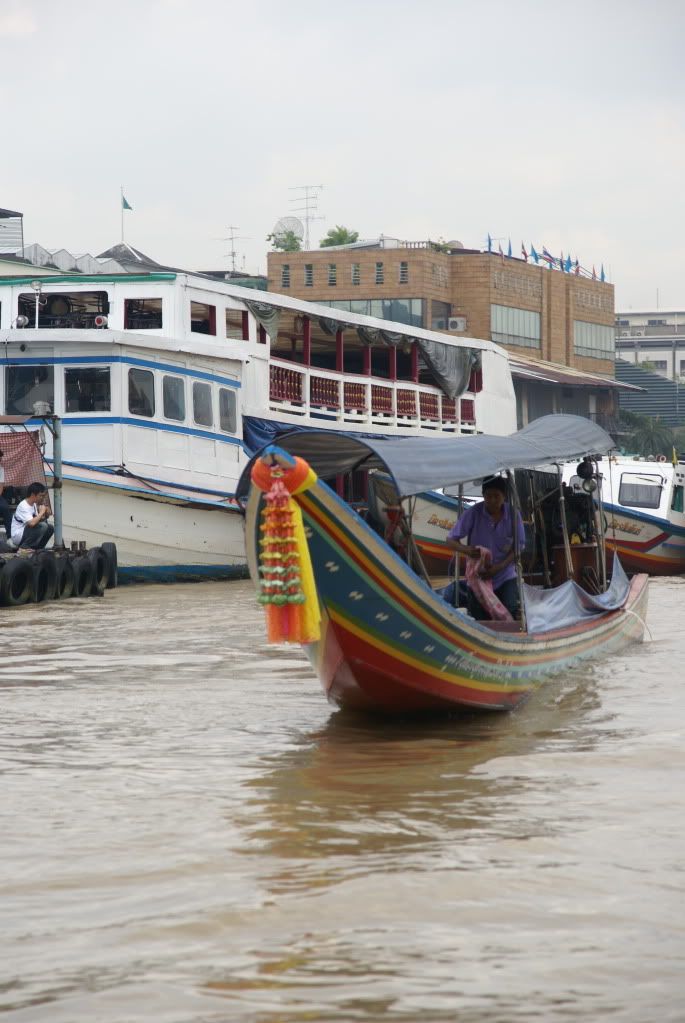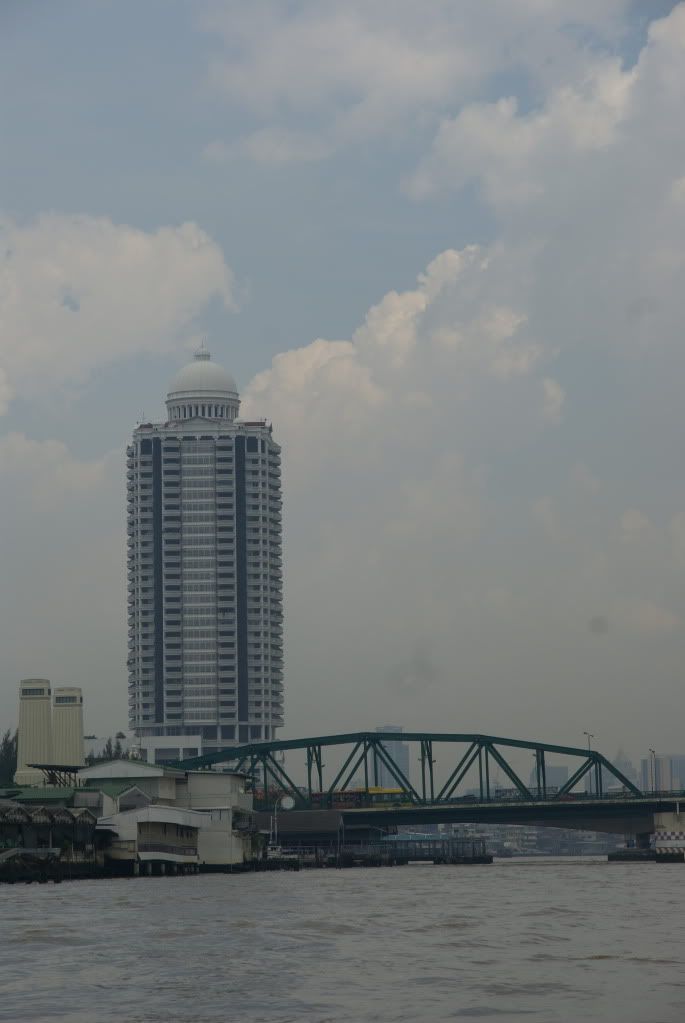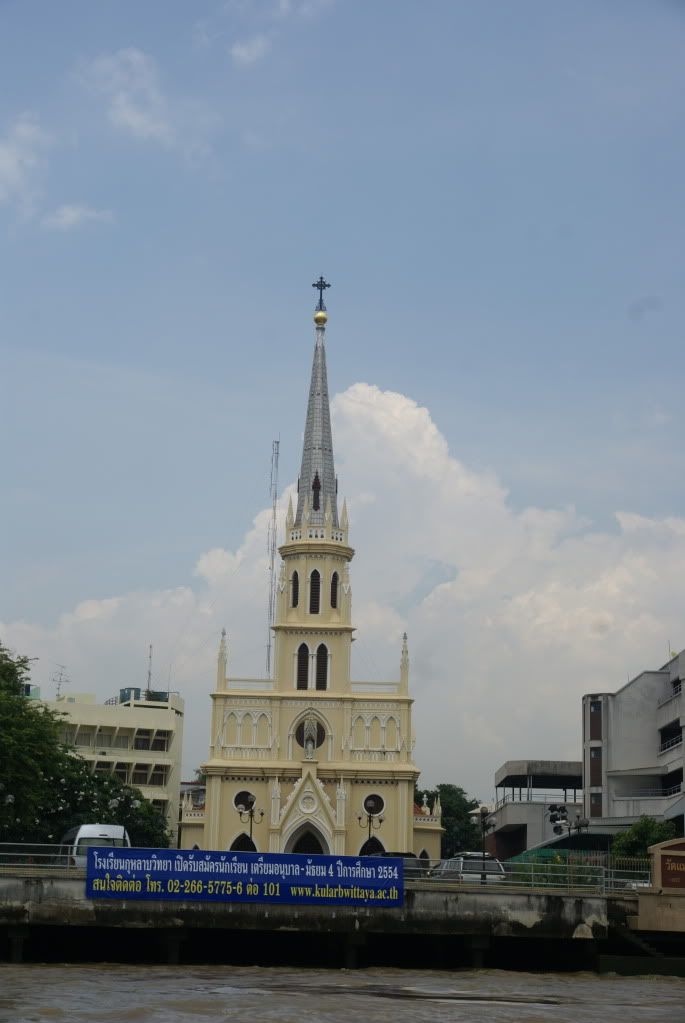 Setibanya di Saphan Taksin, suddenly I decided to drop by at Silom to find my semi precious stones for my beading. Ini memang niat aku since di Malaysia lagi. Kononnya di Bangkok ni ada banyak batu batuan yang boleh dibeli dengan harga yang murah. So, aku dengan ditemani hanif, hanya perlu berjalan kaki untuk ke area Silom.
Silom
Memang senang untuk mencari wholesaler ni, sepanjang deretan kedai tu memang banyak pemborong jewelry. Bermacam jenis, warna, gred, bentuk boleh ditemui. Ada yang jual secara strings and ada yang jual ikut berat. Dengan semangat seorang beaders, aku enter one shop, sekali masuk, aku sudah kebeliangan. WOW! Ini memang the right place for me hahaha. Aku dientertained oleh penjual dia seorang Pakistan, memang friendly and baik hati. Sanggup melayan karenah aku yang kebeliangan ni. Apa yang di display di kedai tu rupa-rupanya hanya sebilangan. Dalam almari lagi banyak!!!!! Penjual tu asyik mengeluarkan batu batuan dari almari bawah, bertanya padaku samada aku suka atau tidak? Hmmmm until aku terpaksa berkata "I will take one string for each type" sangat MURAH!!! Agate, Amber, Aquamarine, Citrine, Tiger Eyes, Turquoise, Moonstone…you name it la!