24
th
September 2010, Friday
After soooo long, finally harinya sudah tiba. Today me and KKS (kawan karib selamanya) akan memanjangkan sayap kami untuk menjelajah Bangkok…yay!!! Actually, the plan cuma melibatkan beeps and Bujie. Memang puas jugak la diorang ni memujuk rayu supaya aku join the trip, bukan tidak sudi, tapi memandangkan trip aku yang sebelum ni, Vietnam dan Hatyai, aku rasa kurang teruja untuk join diorang ni. But then, after termakan pujukan rayu si Bujie, kononnya hendak menseperaiskan anak Ghazali ni, so aku pun setuju untuk membeli tiket Now Everyone Can Fly pada bulan April lepas. Yes, plan ni sebenarnya before my Euro Trip lagi. Tapi disebabkan semangat KKS dan mulut yang celupar, niat untuk menseperaiskan terpaksa dibatalkan. And just after raya tu, memang kami bertiga sudah bertungkus lumus untuk study Bangkok.
Today, Bujie and me akan menaiki flight AK738 to Bangkok from KL pada pukul 11:30am. While beeps akan dijangka tiba malam nanti, cos she's flying from KK. Excited? As in to explore Bangkok??? Nah, not really, cuma excited mau berkumpul KKS lagi lebih. Hehehe cos this will be the first time kami bercuti bertiga.
Kami selamat sampai di Suvarnabhumi Airport around 12:40pm. Then we took the Airport Rail Link, yang kononnya baru saja beroperasi. Memang bagus! It only takes us 30 minutes to arrive at Rachprarop station which cost us only THB15 per person, sebab its promotion period, but not sure until when.
Rachaprarop Station, wow..ada Eiffel Tower
From Rachprarop station, kami berjalan ala ala backpackers, untuk mencari hotel kami. Penginapan telah dibuat awal, kami decided to stay at Citin Pratunam, after survey survey from kawan kawan yang pernah pergi ke Bangkok ni. Citin located in Pratunam area, Pratunam area. Kalau google, pratunam ni kononnya clothing paradise. Cuaca memang panas, tambahan pula perut kami lapar, so after check in, we decided to make our first activity….SHOPPING!!! Yes, makan kemudian ;)
The hotel provide us with free tuk tuk service to nearby area. I decided to go to Platinum Mall, yang konon kononnya shopping paradise untuk kaum hawa. But since the tuk tuk drop us at Pantip Plaza, which located next to Platinum Mall, so I decided to go to Pantip Plaza first. Pantip Plaza is their IT Mall, ala ala Plaza Low Yatt la kalau di KL tu. But I found it much much better and advanced than Low Yatt. Niat sebenar untuk pergi sini to find my mekbuk case. YES! Akhirnya dapat jugak, tapi color pink, I wish to get RED color actually.
Finish browsing at Pantip, kami singgah sebentar di gerai kebab ni untuk memerut. Memang susah sedikit mau mencari santapan in this area. Unless you don't mind eating their junkies....
KEBAP??
menarik??
junkies stall along the way
So we continue our journey to Platinum mall, as soon as I entered the mall, aku terkedu and speechless sekejap. Telan air liur, gulp. Wow…seriously, this place is amazing until I don't even know how to shop. Hahahaha…kedai kedai dalam mall ni kecil sahaja, but they decorate it nicely. Aku cuba membuat aksi pembeli yang pertama. I asked "how much?" the girl reply "200 baht, wholesale price, u can take one" OMG, WTF, AYKM, GTHOOH, MYOB, LOL! Hahahah aku pun beli lah tanpa membargain. Seriously, this is heaven for me….those people yang sukak shopping at Sg Wang, please lah….you have to migrate your shopping paradise GF. Hahahah….I have googled about this mall earlier before I came. This mall memang mostly sell cloths secara wholesale, you have to buy at least 3 items to get wholesale price. Some more, you can bargain. But actually, some shops, you can buy 1 item only to get the wholesale price and you can bargain. But then, still, if you don't bargain, the price is still cheap man! Hahahah you can get a dress or cardigan or women jacket for only THB180 without bargain. SERIOUSLY!!!!
I swear, I'm going back to Bangkok just for the sake of Platinum Mall.hahahahaha….It's a 1 stop shopping mall for me. You can find lots of dress, maxi, baby cardi, office wear, lingerie, handbags, accessories, man clothing, shoes, slippers, leggings……ahhhh LOTS! If I'm not mistaken, this mall ada 6 tingkat, top floor mostly jual kasut and handbags. Kasut bling bling you can get dalam THB950, siap custom made lagi, and the accessories memang cheap, 2 kali ganda from what you can get in Malaysia.
7:30pm, kami pun beredar from Platinum Mall, walaupun pada kenyataan masih belum puas lah meround mall ni. Tapi disebabkan last call for tuk tuk service is 8pm, so we have to leave early. Sempat terserempak dengan stalls yg beroperasi di malam hari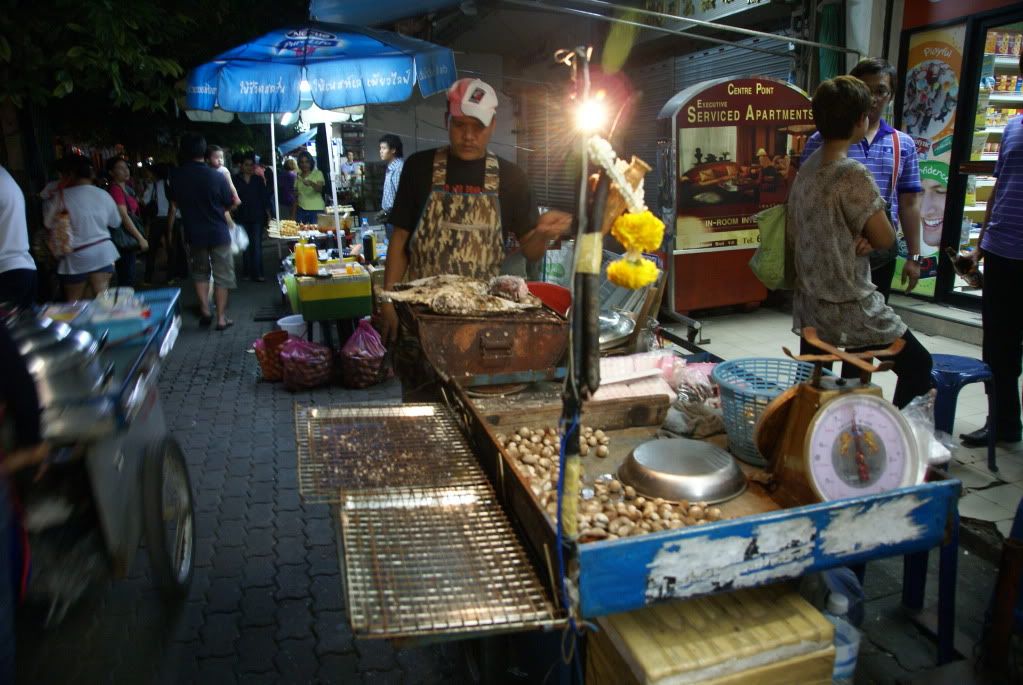 Balik hotel mandi manda, ingatkan mau turun makan malam, tapi terasa macam malas la pulak, its ok lah aku tidur dulu sementara menunggu beeps tiba di Bangkok.